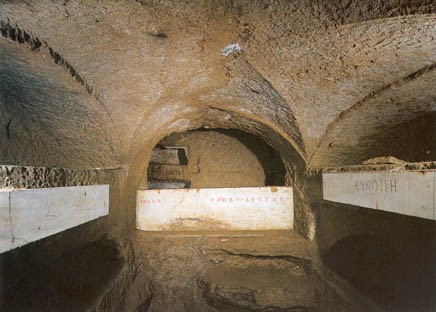 Address
Via Nomentana, 349 - 00162 Roma RM
Opening Time
Monday-Saturday: 10:00-13:00/15:00-18:00; Sunday: 15:00-18:00
Contact
Tel: +39 06 8610840
Email: catacombe@santagnese.net
Sito web: www.santagnese.net
Weeky Closing
Monday, Wednesday afternoon, Sunday and mornings of religious holidays; Christmas, Easter, August 15th, January 1st
Annual closing
November
How to reach us
Metro B1 (blu) stop: S. Agnese / Annibaliano
"His consecration is superior to age, his virtue superior to nature" S.Ambrogio, De Virginibus.
The famous and very young Roman martyr Agnes was buried in this catacomb on the left side of Via Nomentana where a hypogeum that belonged to her family probably already existed. We know that Agnes died at just twelve years of age and underwent tremendous torments: fire, according to Pope Damasus; decapitation, according to St. Ambrose and Prudentius, while according to others, the veins in her neck were severed. As a matter of fact, devotion to Agnes boomed right after her martyrdom. Roman and foreign pilgrims visited her tomb. She was also venerated very much by Emperor Constantine's family. The Emperor's daughter, Constantina (transformed by pious legends into St. Costanza) had a grandiose circular basilica built near the cemetery, of which only some masonry work remains today, and she wanted to be buried near the saint. For this purpose she had a splendid cylindrical mausoleum built, with a dome decorated inside by brightly colored mosaics with cupids gathering grapes. Constantina was buried in a porphyry sarcophagus (which is in the Vatican Museums today. A copy was put in the mausoleum).
On Agnes' tomb in the catacomb, Pope Honorius I (625-638) had the present-day basilica built, which replaced a more ancient edifice from the time of Pope Symmachus (498-514). The basilica is partially below ground, with a narthex, three naves and a women's gallery. The apse is decorated with a splendid mosaic representing Agnes between Popes Honorius and Symmachus. The catacomb is rather poorly preserved because it was visited without interruption over the course of the centuries.