Catacomb of Saints Marcellinus and Peter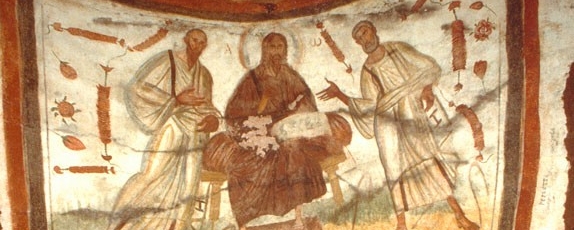 Address
Via Casilina, 641 - 00177 Roma RM
Opening Time
Monday - Wednesday / Friday – Sunday 10:00 - 12:00 / 14:00 - 17:00
Contact
Tel: +39 06 2419446 / Cel: +39 339 6528887
Email: santimarcellinoepietro@gmail.com
Sito web: www.santimarcellinoepietro.it
Weeky Closing
Thursday
Annual closing
August
How to reach us
ATAC 105; 409 / Linea Tram Laziali/Giardinetti stop "Berardi"
The catacomb of Saints Marcellinus and Peter derives its name from the two martyrs buried within it. The story behind the life of these two martyrs goes back to the time of the Emperor Diocletian. St Marcellinus and St Peter were slain during the persecution of 304 AC - beheaded, in Rome. Before being killed, however, they were forced to dig their tomb with their own hands. The site of the terrible martyrdom of the two saints was known as 'Selva Nera' (meaning 'Black Forest'), but after their death it was renamed 'Selva Candida', that is 'White Forest', along Via Cornelia.
It was thanks to a roman matron, who went with the name of Lucilla, that the bodies of the two martyrs were brought to Via Casilina, at the site called ad Duas Lauros. With the translocation of the saints' bodies, the Christian cemetery, already in use, was dedicated in their memory.
The catacombs extend over an area of ​​18,000 square meters. Already by the third century, it is believed that around 15,000 people had been laid to rest at this site. Historical artefacts, such as tombstones covering the niches (loculi), are also preserved within the catacombs. Furthermore, some of the marble tombstones are marked with visible and recognisable signs by which the early Christians indicated their belief.
To know more buy The catacombs of Saints Marcellino and Peter